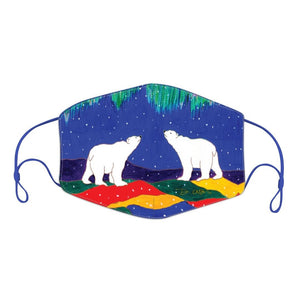 CHILDREN'S Dawn Oman Sky Watchers Reusable Face Mask
For each mask that is purchased, we send a mask to an Indigenous child or youth in our Indigenous communities.
Sky Watchers

Design by Yellowknives Dene Native Artist Dawn Oman.
"The Polar Bear is known as the wise, powerful 'Great Lonely Wanderer'. The Bear clan members were the strong and steady police and legal guardians." - Dawn Oman
Reusable Masks have 3 layers with adjustable ear loops. They have a pocket inside for the filter. The outer layer with the design is 100% Polyester and the inner layer and lining are 100% Cotton.
They are washable, unisex, and for children from 3 to 12 years of age. 
Children's face masks are measuring 11 cm high and 18 cm wide.