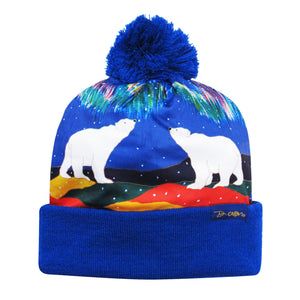 Dawn Oman Sky Watchers Winter Thermal Hat
Design by Yellowknives Dene Native Artist Dawn Oman.
"The Polar Bear is known as the wise, powerful 'Great Lonely Wanderer'. The Bear clan members were the strong and steady police and legal guardians." - Dawn Oman
Adult size. Double-layer construction offers maximum heat retention and long-lasting warmth. 100% polyester outer layer and 100% acrylic inner layer in soft-spun knit.