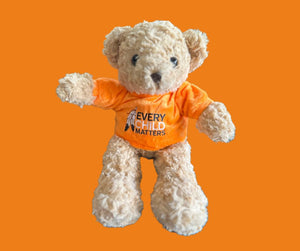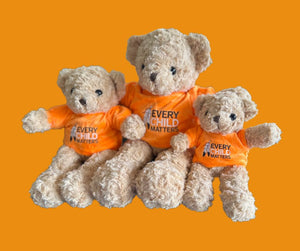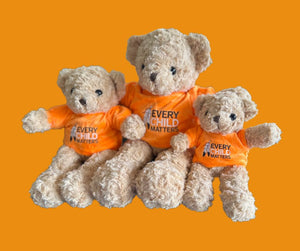 Every Child Matters Teddy Bear - Medium (12 Inches)
Give the gift of warmth, comfort, and a meaningful message with our Every Child Matters Teddy Bear. This adorable teddy is not just a soft and lovable companion but also an emblem for a cause that touches hearts and changes lives.
Orange Shirt Day: The annual Orange Shirt Day on September 30th opens the door to global conversations on all aspects of Residential Schools. It is an opportunity to create meaningful discussion about the effects of Residential Schools and the legacy they have left behind. A discussion all Canadians can tune into and create bridges with each other for reconciliation. A day for survivors to be reaffirmed that they matter, and so do those that have been affected. "Every Child Matters, even if they are an adult, from now on." - Orange Shirt Day

Mariam Wesley Memorial Scholarship: We are proud to announce the initiation of the Mariam Wesley Memorial Scholarship in the memory of our great aunt who never came home from residential school. Mariam Wesley was 10 years old when she was taken from her family to Bishop Horden Hall Indian Residential School. She was 14 years old when she died from Tuberculosis on July 23, 1942. Her remains were never returned to our family, who were told she was buried in Cochrane without any marker or specific location given. After the news of children's remains discovered in Kamloops residential school in 2021, we found her final resting place in September 2021. Proceeds from the sale of Every Child Matters items will contribute to this scholarship.
By purchasing our Every Child Matters Teddy Bear, you are not only giving a soft, loving friend to someone special but also contributing to a cause that resonates deeply with families and communities. You are helping to ensure that the message—that every child does indeed matter—echoes far and wide, supporting education and reconciliation along the way.
---
Order yours today and cuddle up to a cause!