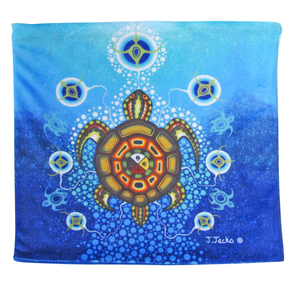 James Jacko Medicine Turtle Microfleece Neckwarmer
Designed by Odawa-Pottawatomi Artist James Jacko.
The Turtle is sacred in the indigenous culture. It carries the four colours of the medicine wheel, symbolizing important elements and can be different depending on the tribe. The seven circles represent the seven teachings of our people, and inside each circle is a bird that delivers the message of the creator.
100% Polyester, One-size. 
Super soft microfleece, stretch to fit around neck. It can be pulled up to cover the ears and nose.
Double-layer provides warmth and protection against wind.
Machine washable.