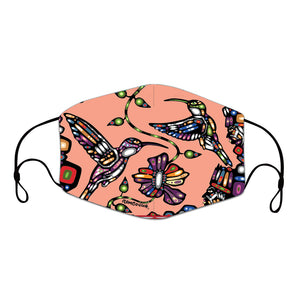 John Rombough Hummingbird Reusable Adult Face Mask
For each mask that is purchased, we send a mask to an Indigenous child or youth in our Indigenous communities.
Hummingbird
Designed by Chipewyan Artist John Rombough.
"Living in a fast pace, it flies from flower to flower, enjoying the freedom of the sky above. The ancestors are always happy to welcome the hummingbird back to the land." - John Rombough
Reusable Masks have 3 layers with adjustable ear loops. They have a pocket inside for the filter. The outer layer with the design is 100% Polyester and the inner layer and lining are 100% Cotton. They are washable, in adult size, unisex. 
This is a non-medical use face mask. Click here to read the Government of Canada's guidelines concerning the non-medical use of face masks.