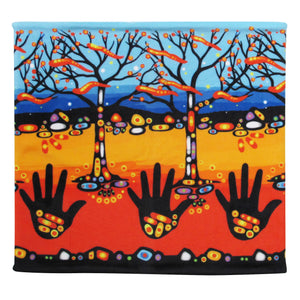 John Rombough Remember Microfleece Neckwarmer
Designed by Chipewyan Artist John Rombough.
As the two ancestors watch over the land, they pray for all the children – every child matters.
100% Polyester, One-size. 
Super soft microfleece, stretch to fit around neck. It can be pulled up to cover the ears and nose.
Double-layer provides warmth and protection against wind.
Machine washable.